Healthcare organizations are under pressure to make significant investments in IT initiatives, and they need to do it right. The success of these projects hinges on project management (PM) practices that ensure the organization is able to meet its goals and produce a successful outcome.
Neglecting project management can spell disaster for your healthcare IT initiative. A mismanaged project can result in cost overruns, failed timelines, and decreased transparency. To ensure a successful project from start to finish, it's important to set expectations as early as possible and be sure the right communication channels are in place so all team members are on the same page. PMs need to be sure that documentation and tracking are up-to-date, so everyone in the organization has access to timely information about how individual projects are progressing.
It's important for healthcare organizations to be able to recognize these signs and act accordingly. Want to learn more? Register for our full conversation with ROI's PMO Director, Kyle Hodges, and VP of ERP Strategy, Diana Van Blaricom.
Presenter Spotlight
Kyle Hodges, PMP - PMO Director @ ROI Healthcare Solutions
Kyle is a project manager and HR leader, who has led implementations in complex healthcare systems that transitioned many antiquated paper-based activities to enhance electronic processes leveraging Infor applications.
He has a proven leadership record in a $1B health system. This includes financial and business analysis of physician enterprise activities including productivity metrics, reporting, and compensation plan support. Kyle is a dynamic, innovative problem solver with comprehensive management experience leading multifaceted company-wide projects across distribution and healthcare in process improvement, strategic initiatives, and human capital projects. He has successfully managed cross-functional teams yielding improved business performance, more efficient operations, and sustained positive change. Kyle earned his MBA from Case Western Reserve University and a Bachelors degree from the University of Chicago.
Diana Van Blaricom - VP, ERP Strategy @ ROI Healthcare Solutions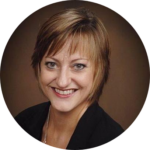 An industry-leading ERP executive with over 30 years of expertise traveling the globe to help organizations transform their business processes through advanced technologies. Diana helps customers create their technology roadmaps with pragmatic business process improvement, organizational strategy execution, leading practices, and change management techniques to improve user adoption.
About ROI Healthcare Solutions
ROI Healthcare Solutions is healthcare's trusted IT Services Partner, founded in 1999. We save clients time and money, creating clinical, operational, and financial excellence through ERP, EHR, and Revenue Cycle initiatives. ROI offers industry-centric project management, consulting, implementation. optimization, support, and staffing services. Our leadership is committed to delivering quality services with highly engaged team members to clients who appreciate long-term partnerships.
ROI gives life to our clients' mission and vision through optimizing processes, people, and technology. We are recognized by both Inc 5000 as a fast-growing private company and Modern Healthcare as a Best Place to Work in Healthcare. ROI has been rated Best in KLAS within the KLAS Research's "Partial IT Outsourcing" category and is a two-time KLAS category leader in "Business Solutions Implementation Services."